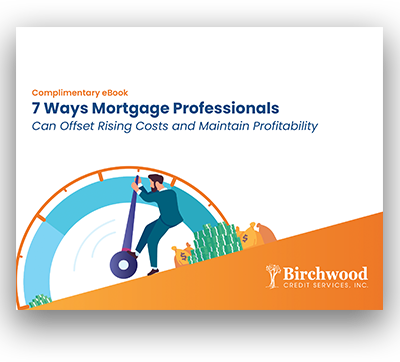 Complimentary eBook!
7 Ways Mortgage Professionals Can Offset Rising Costs and Maintain Profitability
What's Inside?
It's no secret that the real estate market is posing challenges to every member of the mortgage industry. Interest rates are higher than they've been in years, inventory is down, and many buyers are spooked.
Let's talk about the bright side. Before you skeptically snort and say, "What is that?" Consider this: flexibility, adaptability and agility are key to not just making it through this valley, but thriving in it. Yes, the total pie may have shrunk and profitability margins may have decreased, but there are still ways to ensure you come out on top.
If you want to offset the rising costs of getting borrowers into mortgages and protect your profitability, this information is for you.
In this eBook, we will explore the following topics:
Saving every possible deal

Elevating the borrower experience

Consolidating your vendors

Leveling up your automation

Capitalizing on seasonal demand

Strengthening your partner relationships

Getting out of your comfort zone