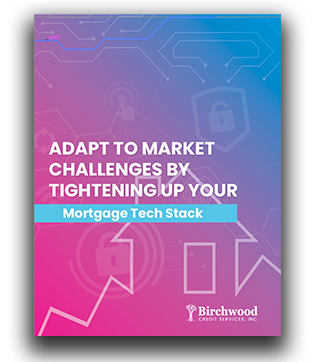 Complimentary eBook!
Adapt to Market Challenges by Tightening Up Your Mortgage Tech Stack
What's Inside?
The mortgage industry has never been for the faint of heart. The wild interest swings, huge regulation changes, and enormous buyer and seller fluctuations would make many people throw up their hands and find a new career path in a matter of weeks.
And while the industry has always been tumultuous, it's recently been even more volatile than usual. Inventory shortages and interest rates shooting through the roof have created an unpredictable environment that even has long-time industry veterans raising their eyebrows.
But, where there are challenges, there are opportunities. Mortgage pros must figure out ways to stay productive and profitable until the market changes again (because we know it WILL change).
Now is the time to shore up your technology stack.
This eBook will give you insightful, actionable information to help you:
Use the right tech to improve your business

Find ways to turn denied borrowers into approved borrowers

Get ready for the eventual market ramp up

Pinpoint manual processes and incorporate tech to minimize them

Research new tech offerings to increase efficiency and lower costs

Rethink your mortgage tech stack to help take the future by storm