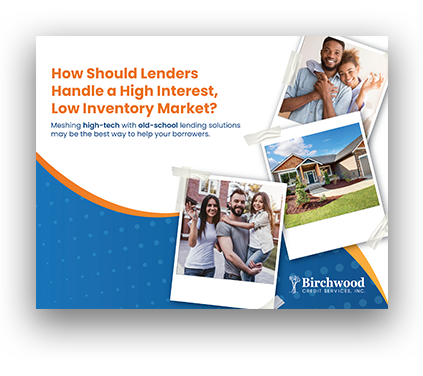 Complimentary eBook!
How Should Lenders Handle a High Interest, Low-Inventory Market?
What's Inside?
You can't turn on the news without hearing about high mortgage interest rates and home prices. It's enough to scare even the most determined buyers into waiting until "next year" to try buying a home. Those who've been in the mortgage game a long time know the importance of finding ways to get borrowers into home loans. For newer pros, these obstacles may worry you and cause you to consider a new line of work. Don't wait around, hoping to find enough business to fill your pipeline. Times like these just mean you need to get creative.
Sure, you undoubtedly promote your business on social media, attend networking events, use mobile-capable applications, and employ software that helps borrowers know how to increase their credit scores (CreditXpert®, of course). But there are other, lower-tech ways to address this less-than-friendly market, too. Here are some compelling mortgage products that may have fallen out of favor in the past decade that can help.
In this eBook, we will explore the following mortgage products:
2-1 Buydowns

Adjustable Rate Mortgages (ARM)

40-Year Mortgages

Interest-Only Mortgages

Home Equity Lines of Credit (HELOC)

Paying Points