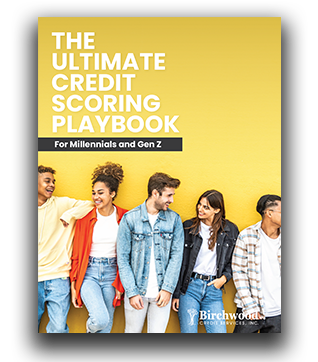 Complimentary eBook!
The Ultimate Credit Scoring Playbook for Millennials and Gen Z
What's Inside?
In the competitive landscape of the mortgage industry, navigating the unique challenges presented by the buyer pool is essential. As a mortgage professional, you play a crucial role as the guiding force connecting homebuyers, especially Millennials and Gen Z, with their long-awaited dream homes. This responsibility requires a comprehensive understanding not only of the prevailing market conditions, interest rates, regulations, and requirements but also a deep insight into the needs and preferences of these tech-savvy generations. By mastering these key aspects, you can establish yourself as a trusted advisor capable of assisting Millennial and Gen Z homebuyers in effectively managing their credit scores.
This eBook offers invaluable, actionable insights that empower you to:
Grasp the unique characteristics of Millennials and Gen Z impacting their home purchasing decisions.

Uncover the misconceptions surrounding credit scores prevalent among these generations and the consequential struggles they face.

Develop a strategic game plan to assist Millennials and Gen Z in navigating credit scoring fundamentals effectively.

Propel your business growth by effectively targeting Millennial and Gen Z customers, expanding your reach and influence.