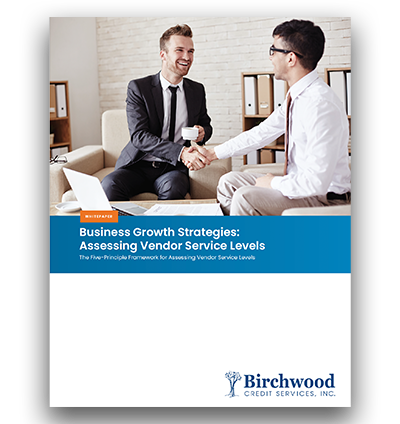 Complimentary White Paper!
Business Growth Strategies: Assessing Vendor Service Levels
What's Inside?
We all know sub-par customer service when we experience it. We recognize the creeping sense of frustration and futility that arises after being trapped in the labyrinth-like loop of an automated attendant or left on hold for what feels like an eternity.
On the flip-side, when a company goes above and beyond with service that defies your expectations, you not only feel positively toward that brand, you feel a sense of affinity and even loyalty.
Today, especially in commoditized markets (like credit reporting), truly superior customer service is one of the only true differentiators. Working with a company that focuses on delivering excellent customer service can actually make an impact on your bottom line.
In this White Paper, we will explore the Five-Principle Framework for Assessing Vendor Service Levels.
How Your Partner's Good Customer Service Drives Bottom-Line Benefits for Your Business

The 5 Core Principles of Outstanding Customer Service
Download the White Paper!