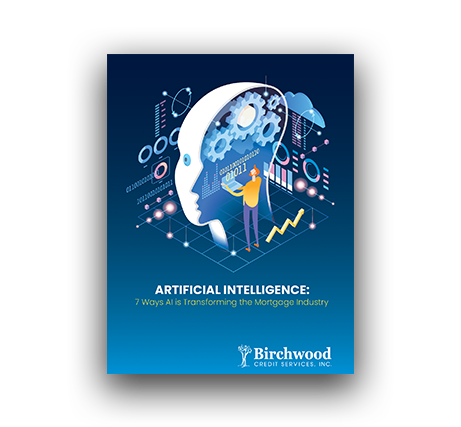 Complimentary eBook!
Artificial Intelligence: 7 Ways AI is Transforming the Mortgage Industry
What's Inside?
Technology has always played a vital role in shaping the mortgage industry. From loan origination software (LOS) systems to underwriting systems, cloud-based credit reports, and other ordering platforms, technological advancements have revolutionized the way mortgages are handled. But now, there's a new player in town - Artificial Intelligence. With its potential to disrupt the mortgage industry, AI has ignited excitement in some, while others remain skeptical. Regardless of where you stand, understanding the impact of AI on the mortgage business is crucial to staying relevant in this ever-evolving landscape.
In this eBook, we will explore the following topics:
Elevating the customer experience with Artificial Intelligence

Increasing productivity and reducing costs

Using AI to keep business practices compliant

Streamlining efficiencies and workflows using AI

Turning raw data into predictive stories

Integrating AI to offer predictive insights into your borrowers