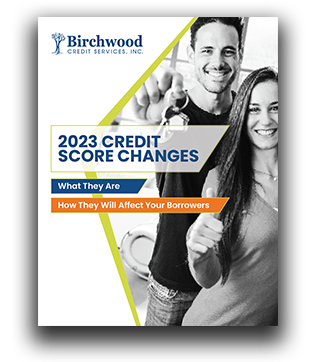 Complimentary eBook!
2023 Credit Changes- What They Are and How They Will Affect Your Borrowers
What's Inside?
If you've been in the mortgage business for more than 10 minutes, you're well aware of the crucial role credit scores play in serving borrowers and getting them into loans. For year's there's been little change in how to calculate credit scores That's about to change. Savvy mortgage professionals must keep up with new credit scoring changes to assist their borrowers in protecting their creditworthiness. This eBook explains everything you need to know about credit scoring changes and how they'll affect your borrowers.
What You'll Learn:
Understand the credit score model and how it calculates scores.

Become aware of why credit scoring models change.

Get insight into the upcoming FICO™ 10T and VantageScore® 4.0 changes and how they will impact your borrowers.