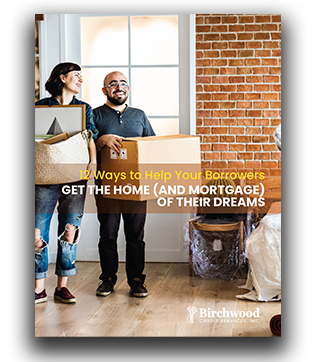 Complimentary eBook!
12 Ways to Help Your Borrowers Get the Home (and Mortgage) of Their Dreams
What's Inside?
Finding a home, securing a mortgage loan, and negotiating with sellers can be overwhelming and stressful prospects for hopeful homeowners. They need a team of pros that will help them understand the process and smooth the way to closing.
Mortgage professionals play a pivotal role in helping borrowers attain their home ownership dream. As trusted advisors, you can make a significant difference in their journey. The competitive market we're dealing with demands that mortgage experts try their best to turn every phone call into a mortgage loan. Being able to do this keeps productivity (and your income) high and improves your chances of borrower referrals.
This eBook deep-dives into 12 ways to assist your borrowers in realizing their homeownership aspirations, and 3 things to avoid doing.
Key Takeaways:
Learn how you can help more borrowers qualify for a mortgage

Find ways to increase your business with happy customers (we're talking referrals)

See what actions WON'T be valuable to your borrowers (and may even turn them off)